Alternators and Starters Service
Bring your car or truck to the best auto mechanics in the Atascadero/Paso Robles area!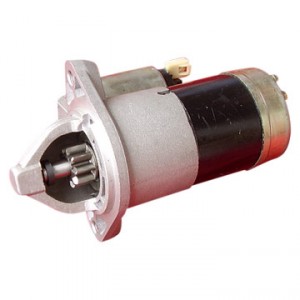 Your car's electrical system would not be sufficient without an alternator. An alternator is a modern form of the generators that we find in some of the older classic cars. Basically, it's job is to replenish the battery and feed power to all of your car's electrical needs when your engine is running. These new and robust units are much more efficient than the generators of days past. Unfortunately, even with today's technology, they only last so long before they need replacing. If your alternator is starting to squeak or squeal when you first start up your vehicle, then it is due for replacement. You do not want to wait until it goes out, because a dead alternator will leave you on the side of the road once the battery is drained. If your alternator is making noise, bring your car or truck to us where we offer the best rates on alternator and starter replacement or repair in Atascadero and Paso Robles!
If you want to ensure that your vehicle starts reliably every time, one of the important steps is constantly check the health of your car battery so that you will know when it is time to buy a replacement. Unfortunately, many vehicle owners do not realize they need a new battery, alternator or starter until their car refuses to start. Don't get stuck in this situation, bring you vehicle in to German Performance for the best alternator and starter service in Atascadero/Paso Robles. Our ASE certified mechanics are familiar with all types of Atascadero and Paso Robles starter and alternator repair, and we are known locally as the best starter and alternator replacement service in Atascadero and Paso Robles.
A car that doesn't start is a car that is going nowhere. When your starter is weak or begins to show symptoms of going out, it is time to have it replaced. Don't wait until you're stranded before fixing the problem! Come see us today, where we offer fast service and the best prices in the Atascadero Paso Robles area for starter replacement service.
Bring your car to German Performance of Atascadero, for the fastest and most affordable starter repair in Atascadero and Paso Robles!
Need help diagnosing or repairing something on your car or truck? German Performance provides the best auto repair and replacement service in Atascadero and Paso Robles, CA. Trust your vehicle with the best certified mechanics in the area. Broken parts, funny sounds, leaking fluid, no problem! Call (805) 466-3236 or stop in to our auto repair shop in Atascadero/Paso Robles today!