Other Auto Repairs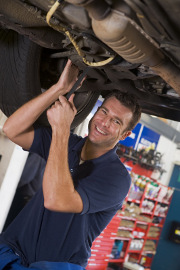 Bring your car to German Performance in Atascadero, just a short drive from Paso Robles, because we're the experts you can trust!
Taking care of your vehicle with proper maintenance will go a long ways in keeping your car or truck safe, reliable, and enable it to provide you with years of faithful service. Routine oil changes and transmission flushes will help keep the two most costly parts of your car, in good condition even after years of service. Today's cars are built much better and designed to last longer than ever. It is not uncommon to see cars on the road with well over 200k or even 300k miles on them! Keep you car running smooth by bringing it in to German Performance for scheduled maintenance and service.
Something you might want to consider is switching over to synthetic oil. It's a change that can reduce engine wear, and in many cases, increase the interval between oil changes. You can often get more miles out of a synthetic oil change, than a regular oil change. Stop in today for a speedy oil change in Atascadero or Paso Robles. We provide our clients with auto repair services for a variety of different makes and models; this includes Audi auto repair, BMW auto repair and everything in between, and we proudly offer the best service in Atascadero and Paso Robles!
Here at German Performance, a short drive from Paso Robles, we employ ASE certified mechanics so that we can provide our clients with the fastest auto repair and service in Atascadero and Paso Robles. From belt changes to scheduled maintenance, our mechanics can handle it all. If you live in Atascadero or Paso Robles, and need your car or truck repaired, then bring your car to us and we will give you the best deal on auto repair in Atascadero and Paso Robles.
We service a wide variety of German and Asian vehicles, including BWM, Volkswagen, Mercedes Benz, Audi, Honda, Toyota, Nissan, Kia, Lexus and Porsche.