Atascadero & Paso Robles State Inspection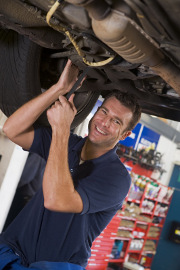 Are you looking for a Car State Inspection in Atascadero and Paso Robles? We are your State Inspection experts. We can typically have you in and out within 10 minutes. At German Performance we employ ASE certified technicians that are qualified to perform state inspections on a variety of different makes, including Audi, BMW, Volkswagen, Mercedes-Benz, Toyota, Subaru, Scion, Acura, Porsche, Nissan and Prius. Give us a call today or come in today if you need a state inspection for your vehicle in Paso Robles or Atascadero. We can have you back on the road in no time and you could save up to 50% over what many dealerships charge for state inspection services in Atascadero and Paso Robles.
Additionally we can inspect your car, truck or motorcycle.Remember, state inspections are mandatory not only to ensure proper vehicle emission limits for better air quality but also to make sure the driver is driving a safe vehicle. So, if you do have any safety issues, we can help. We handle more than just oil changes and state vehicle inspections. We provide certified mechanics that handle all areas or maintenance, service and replacement of parts if needed.
At our Atascadero Paso Robles Auto Repair Shop, we know all the makes and models of cars and trucks, and almost every year of any vehicle. You can trust your vehicle to us!
If needed, we can definitely get your car State Inspection Ready! The most common issues are State emission failure due to a problem with your automobiles emissions control systems.Emission repairs, O2 (oxygen) sensors and EGR valves are some of the most common repairs our certified Atascadero Paso Robles Mechanics deal with but we can handle just about any car repair issue that you may have.