Suspension & Steering Repair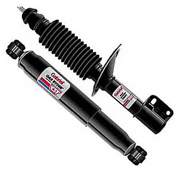 Bring your car to German Performance in Atascadero, just a short drive from Paso Robles, because we're the experts you can trust!
The steering system on your car consists of the power steering unit, the power steering pump, the gearbox, inner and outer tie rods, and ball joints. These components will wear out and need servicing and replacing after years of wear and tear. The tie rods and ball joints are especially important to replace before they go, for obvious safety reasons. When they become badly worn, they will eventually come apart and will cause considerable loss of control. We recommend replacing tie rods and ball joints when they are signs of wear or sloppiness. This is a very important step toward keeping your car or truck safe and road-worthy. Trust our expert mechanics with the safety concerns of your vehicle, where we have the best prices in Atascadero and Paso Robles on steering repair service.
Shocks, springs, struts, and sway bas make up the suspension of your vehicle. Some vehicles have springs and shocks as separate components, while others combine them into what they call a strut. A strut is basically a shock with a spring attached to it, and installs as one unit. Struts are found on most cars, while springs and shocks are found on most trucks.When shocks and struts wear out, they can cause everything from a loose and unsafe ride to irregular tire wear. Bring all your Atascadero and Paso Robles suspension repair service needs to the area's best ASE certified mechanics, right here at German Performance, where you will receive top quality service for the lowest prices on steering service in Atascadero and Paso Robles.
Come see us today in Atascadero, just a few minutes south on the 101 from Paso Robles, because we are trusted professionals when it comes to all your Atascadero steering repair, suspension, shock, and strut needs!
Our ASE certified mechanics are trained to provide our clients with a wide range of suspension and steering services in Atascadero and Paso Robles on many of the most popular German vehicles on the market. This means that if you need BMW suspension service or Mercedes Benz steering repair, or anything else in between, German Performance is the place to go.
Our ASE certified mechanics can provide Atascadero & Paso Robles suspension repair for a variety of different makes and models, including BMW, Audi, Kia, Volkswagen, Nissa, Toyota, Porsche, Mercedes Benz, Mazda, Honda and Lexus.
Here at German Performance of Atascadero Paso Robles, we take pride in giving you quality workmanship combined with giving you a great deal. To us a great deal is when you not only get great service but also at a great rate. If you live in Atascadero or Paso Robles, and need your steering or suspension system repaired, then bring your car to us and we will give you the best deal on Suspension service in Atascadero and Paso Robles.