Power Steering Repair
Don't settle for less! Call the BEST auto mechanics in Atascadero and Paso Robles!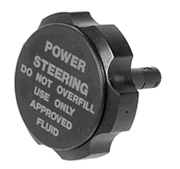 Remember, oil is not the only lubricant in your car that needs to be changed out. If your car has a lubricant, it's there for a reason. Power Steering Fluid, just like any lubricant, tends to break down over time. Any lubricant is primarily there to prevent friction from metal on metal parts in your car.
Most newer vehicles have power steering, which makes it easier to turn the road wheels without having to pull as hard on the steering wheel. Anyone who has had to help move a "dead" car can attest to how difficult it is to turn a car without the help of power steering!
The good news is, the mechanics at Atascadero Paso Robles Auto Repair Shop can make power steering repairs or service on all makes and model of vehicles, and almost any year of vehicle. So no matter what you're driving, if you're having problems with the steering, bring it to us and we can help!
Some symptoms of power steering problems include:
Screeching or squealing sound could mean worn or loose belts
Low power steering fluid (and a possible leak)
"Sloppy" steering (you have to turn the wheel more than usual to get the same results)
Most drivers on the road today have no idea how difficult it is to drive a car without power steering so if you notice any of the above listed symptoms it would be a good idea to bring your vehicle in to German Performance before you lose your power steering completely. Over the years we have developed a reputation as the best power steering repair service in Atascadero and Paso Robles, and this reputation was built in large part thanks to excelelnt customer service and experienced technicians. Our ASE certified mechanics can work on a variety of different vehicles, including Honda, Nissan, Mitsubishi, BMW, Audi, Volkswagen, Subaru, Scion and Acura so bring you car in today for the best power steering repair service in Atascadero & Paso Robles.