Transmission Service & Repair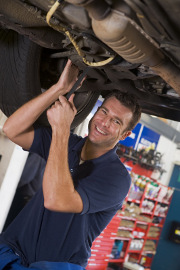 Like your car's engine, your transmission is one of the single most important components of your vehicle, and should be properly maintained on a regular bases. Flushing your transmission fluid is to your transmission what an oil change is for your engine. Over time the fluid breaks down and accumulates debris, which accelerates wear on vital parts and will eventually cause pre-mature failure. Transmission repair in Atascadero can be costly, so it is in your best interest to take scheduled maintenance seriously and have your transmission flushed on a regular bases. Maintenance intervals vary by manufacturer, so see your owner's manual or give us a call at German Performance of Atascadero for more information.
Bring your car or truck in to German Performance of Atascadero / Paso Robles for the best clutch service in town!
Even though automatics dominate the road, manual or stick shift gear boxes are still quite popular among sports cars, economy cars, and trucks. Although these units are relatively durable and do not require the regular service that an automatic does, it still has one key component that will wear out and need replacing. This part is your clutch, and it's role is to connect and disconnect the power between your engine and the wheels. Our friendly ASE certified mechanics are here to help you with all your clutch replacement needs in Atascadero and Paso Robles. Whether you need a transmission flush in Paso Robles / Atascadero or need more complex transmission repair services we can provide you with what you need.
Our ASE certified mechanics specialize in providing service for most types of German and Asian vehicles, including high performance vehicles such as the Porsche or BMW. As the leading provider of BWM and Prius transmission repair in Paso Robles / Atascadero German Performance will always have mechanics on staff that know how to service your vehicle. From clutch repair and transmission flush to clutch and transmission replacement German Performance has you covered!
Our ASE certified mechanics can provide Paso Robles & Atascadero transmission repair for a variety of different makes and models, including BMW, Audi, Kia, Volkswagen, Nissan, Toyota, Porsche, Mercedes Benz, Mazda, Honda and Lexus.
We at German Performance of Atascadero (near Paso Robles) take pride in our quality workmanship combined with giving you a great deal. To us a great deal is when you not only get great service but also at a great rate. If you live in Paso Robles or Atascadero and need your car or truck repaired then come see us and we will give you the best deal on transmission service in Atascadero!