Transmission Flush Service
Don't settle for less! Call the BEST auto mechanics in Atascadero and Paso Robles!
Your vehicle's transmission is basically a gear box full of gears, clutches, and other moving parts. Unfortunately, having the fluid in your transmission flushed regularly is a critical preventive maintenance that is all too often overlooked.
Just as routine oil changes are important to the life-span of your engine, transmission fluid flushes are key to keeping your car or truck in service for years to come. Transmission fluid is a lubricant that should be flushed out at regular intervals. Just like engine oil, tran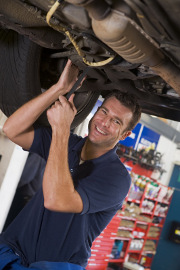 smission fluid breaks down over time and can become contaminated. When this fluid breaks down, the gears in your transmission will begin to wear faster.
At German Performance of Atascadero and Paso Robles, we provide an automatic transmission flush service that changes out your old transmission fluid and replaces it with new transmission fluid. Keeping the transmission fluid in your vehicle fresh and free of particles that can cause damage to your transmission is a great way to help keep your vehicle running smooth for a very long time. Here at German Performance our ASE certified mechanics can perform transmission flushes on a variety of different vehicles, including Honda, Nissan, Mitsubishi, BMW, Audi, Volkswagen, Subaru, Scion and Acura. Give us a call today for the best transmission flush service in Paso Robles and Atascadero.