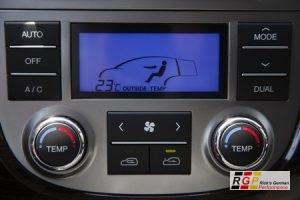 Many parts of your vehicle require regular maintenance services to stay in good condition. You vehicle's air conditioner is not one of those things, so sometimes it can be difficult to know when to have it looked at. Today we will go over 4 surefire signs that mean your car's air conditioning is in need of service.
Blowing Hot Air
First and foremost, the air conditioner is in place to provide cold air. If it is no longer providing cold air, there is certainly a problem. For the most part, this can be fixed with more refrigerant or a simple fan replacement, but make sure you have it looked at quickly. to make sure there isn't a more serious problem damaging it.
Puddling Water
If water puddles underneath your vehicle when the A/C is running, that's normal. However, the water should never puddle inside the vehicle! If your A/C is causing condensation or puddles of water inside of your car, bring it in for replacement right away.
Strange Sounds
Cars aren't known for being quiet, but if you drive yours regularly, you recognize what is normal and what isn't in terms of vehicle noise. With that in mind, if your vehicle's A/C starts making strange noises it can indicate a problem.
Foul Smell
If when you turn on your vehicle's A/C, you start to smell a foul odor, be sure to have it looked at right away. It could indicated mold or mildew in the tubes, which can lead to respiratory problems. Getting the system flushed or replaced is essential.
If you need help with your vehicle's A/C repairs, give our team a call today at (805) 466-3236!