Differential Repair Service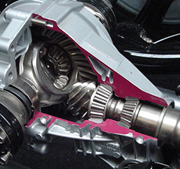 The differential drives a pair of wheels while allowing them to rotate at different speeds. When cornering, the inner travels a shorter distance than the outer wheel, so with no differential, the result is the inner wheel spinning and/or the outer wheel dragging, which results in difficult and unpredictable handling, damage to tires and roads, and strain on (or possible failure of) the entire drivetrain. You don't have to be an expert on cars – just bring yours to us at our Atascadero Auto Repair Shop! Just a short drive from Paso Robles!
Your differential needs lubricant changes too. When people think of fluid changes in their car or truck they pretty much only think of oil changes. But really all lubricants in your car need to be changed out from time to time. A lubricant is there to help prevent fiction. If differential lubricant breaks down then friction begins to occur at a more rapid pace and that's where damage is done.
Whether you need a lubricant change for your differential or have a more complex problem that need to be repaired by trained ASE certified mechanics German Performance is the place for you. We have been the leading provider of differential service and repair in Atascadero and Paso Robles for years and as such no other Atascadero auto repair shop can compete with us when it comes to quality service, trained personnel and differential repair service pricing in Atascadero and Paso Robles. Don't take our word for it, just ask around in Atascadero & Paso Robles and you will see that we have an incredibly positive reputation with former and current clients. Call or come in to German Performance today for all of your differential service & repair needs in Atascadero & Paso Robles.
Need help fixing or diagnosing a differential problem? Atascadero Paso Robles Auto Repair provides the best differential repair service and replacement of any auto repair shop you can find. We have the best mechanics of any place in the area. Broken parts, funny sounds, leaking fluid, no problem! Give us a Call!
We are your one-stop Auto Repair Shop in Atascadero and Paso Robles. From Complete Engine Repair to Differential repair service, we do it all! Don't forget we have the Best Auto Mechanics in Atascadero and Paso Robles and we will typically save you 50% over car dealer pricing. Great Prices – Great Service!!
Are you hearing funny noises? Is something broken? Do you have leaking fluid? Whatever car problem you have, we are the auto repair shop in Atascadero and Paso Robles to bring it to! We can diagnose and fix any car service issue that you may have. Our Auto Mechanics can get the job done!
Our ASE certified technicians can provide differential repair service in Atascadero and Paso Robles for a variety of different vehicles, including BMW, Kia, Lexus, Audi, Honda, Nissan, Mazda, Volkswagen and Subaru.