Drive Train Repair Service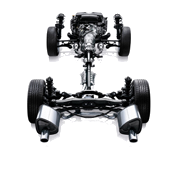 If you are experiencing drive train problems bring your vehicle in to German Performance for the best drive train repair service in Atascadero & Paso Robles. We have ASE certified mechanics on duty ready and waiting to to help you with all of your drive train repair needs in Atascadero and Paso Robles. Our mechanics have years of experience performing all types of drive train service & repair in Paso Robles and Atascadero so you can be sure that when you bring your vehicle in to German Performance you will receive only the best service possible. Don't trust inferior auto repair shops with such an important job, call or come in to German Performance today for all of your Atascadero and Paso Robles drive train repair needs.
The drive train entails parts under the vehicle such as CV joints, axles, drive shafts, and universal joints (u-joints). All of the parts will wear out over time so it is a good idea to get these parts serviced on a regular basis. Taking your car or truck to get its drive train worked on will help with the fuel economy, and with the ride quality. You will be glad you brought your car or truck in to us at our Atascadero Auto Repair Shop! Just south of Paso Robles!
If any part of the drive train needs service or repair, it can affect your gas mileage before it starts causing more serious problems – so it makes sense to have your vehicle looked at by our expert technicians as soon as you think there may be an issue. Every mile you drive with a bad drive train is money wasted out of your gas tank, so don't delay! It's fast and easy at our Atascadero Auto Repair Shop to have your car or truck checked out, and if your vehicle needs service or repair you won't be charged the high fees you would see at a dealership for the same issues.
We are your one-stop Auto Repair Shop in Atascadero and Paso Robles. From Complete Engine Repair to Drive Train Repair Service, we do it all! Don't forget we have the Best Auto Mechanics around and we will typically save you 50% over car dealer pricing. Great Prices – Great Service!!
Are you hearing funny noises? Is something broken? Do you have leaking fluid? Whatever car problem you have, we are the auto repair shop in Atascadero and Paso Robles to bring it to! We can diagnose and fix any car service issue that you may have. Our ASE certified Auto Mechanics can get the job done!