Atascadero Tune-Up Service / Emission Repair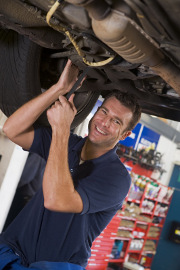 Here at German Performance of Atascadero / Paso Robles, we are the experts for all of your emission and tune-up service needs. Our ASE certified auto mechanics have been trained and groomed and are ready to tackle your car or truck's repair needs. Come see us today in Atascadero (near Paso Robles)!
Tuneups are important! After so many miles, certain engine components will begin to wear out and will need to be replaced. When this is not done, your engine's horsepower, fuel economy, and performance will suffer. Even worse, your car will eventually become unreliable, and could leave you stranded on the side of the road. That is why bringing your car or truck in to German Performance of Atascadero / Paso Robles for a tune-up is so important. When we do a tune-up, we replace all of the basic parts such as spark plugs, wires, distributor cap and rotor, and air filter, and belts.
Are you in need of Atascadero Paso Robles emission repair? We can help! We are experts at solving even the most difficult problem with your car's emission system.
Bring your car or truck in today for all of your Paso Robles / Atascadero tune-up service and emission repair needs! We specialize in providing service for most German and Asian vehicles. Whether you need a Porsche tune-up or a BWM tune-up, German Performance is the place to go.
We at German Performance of Atascadero / Paso Robles take pride in providing you with the best tuneup services in around!
Our ASE certified mechanics can provide Atascadero & Paso Robles tune-ups for a variety of different makes and models, including BMW, Audi, Kia, Volkswagen, Nissan, Toyota, Porsche, Mercedes Benz, Mazda, Honda and Lexus.