PCV Valve Replacement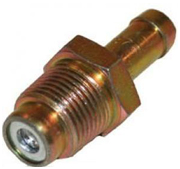 The positive crankcase ventilation valve or PCV valve serves more than one purpose. It regulates the pressure in the crankcase and the venting of fumes from the case into the intake manifold; it also prevents fumes from the intake manifold from entering the engine.
The expert mechanics at Atascadero and Paso Robles Auto Repair Shop can ensure your PCV valve is doing the job of filtering particles and providing the right air-to-fuel mix for your vehicle to keep it running like it should.
No matter what make or model vehicle you are driving, we work on almost all kinds of vehicles from almost every year.
If you noticed that your vehicle may be in need of PCV valve repair, don't waste any time in bringing it in to German Performance for the best PCV valve repair/replacement services in Atascadero and Paso Robles. Some signs of a damaged PCV valve include your check engine light turning on, loud noises and oil leaking onto the air filter. Our ASE certified mechanics are qualified to repair PCV valves in a variety of different vehicles, including BMW, Volkswagen, Scion, Toyota, Nissan, Honda, Prius, Audi, Acura and Subaru. Our clients report saving up to 50% over dealership pricing when they choose us to provide them with the PCV valve service.
Are you hearing funny noises? Is something broken? Do you have leaking fluid? Whatever car problem you have, we are the auto repair shop to bring it to! We can diagnose and fix any car service issue that you may have. Our Auto Mechanics can get the job done!