Car Electrical Repair Service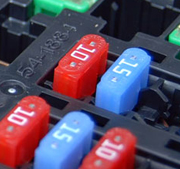 Today's cars and trucks rely heavily on electronics to be as efficient, safe, and reliable as they are. Unfortunately, unless you are trained, these systems can be daunting to work with at best. However, that is not the case for our trained and ASE certified mechanics! We can efficiently diagnose and repair most any electrical problem on today's cars or trucks. We work on everything from engine sensors, relays, switches, regulators, diodes, and solenoids, to simple light bulb replacement. We do it all! Come see us for the best electrical repair service in Atascadero and Paso Robles!
When your car needs electrical repairs, bring it to German Performance in Atascadero, just a short drive from Paso Robles!
When something is wrong in your engine, often the engine control module (ECM) will throw what they call a DTC or a Diagnostic Trouble Code. When there is a code present, your check engine light will come on so that you know something under your hood needs attention. When your check engine light comes on, come see us; we have the equipment, training and knowledge to diagnose and repair your problem quickly. The best mechanics in Atascadero/Paso Robles are trained to diagnose and perform electrical repairs.
We pride ourselves with quality workmanship combined with giving you a great deal. To us, a great deal is when you not only get great service, but also a great rate. If you live in Atascadero or Paso Robles, and need your car or truck repaired, then bring your car to us and we will give you the best electrical repair service in Atascadero/Paso Robles.