Electrical Service
Bring your car to German Performance in Atascadero,just south of Paso Robles, because we're the experts you can trust!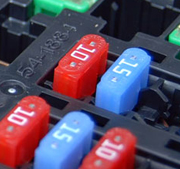 Every vehicle has an electrical system that includes a battery, alternator, the spark plugs, interior and exterior lights, and other accessories. These components are connected by wires and protected by fuses – it's similar to a house or other building. If any part of the electrical system starts having a problem, the entire system can suffer, and sometimes fail altogether. The newer your vehicle is, the more complicated the electrical system can be – but the good news is, the mechanics at Atascadero Paso Robles Auto Repair Shop are experts at all kinds of electrical system repairs and service!
Sometimes, you aren't sure what the problem is but you know that something is wrong with your car or truck's wiring. Maybe your window isn't going up properly. Or, maybe you are getting strange read outs on your dashboard or center console. Are your car lights working sporadically?
These symptoms of electrical system malfunctions mean you should bring your vehicle in to the Atascadero Paso Robles Auto Repair Shop as soon as possible. The longer you delay, the greater risk you run of ending up stranded some place with a dead car or truck. There's no reason to take the chance when our mechanics can take a quick look and determine right away if it is something simple, like a loose alternator belt not charging the battery properly, or a serious issue that you will be glad to know about before it became a major problem.
The electrical system is one of the most complex components of any vehicle and as such most vehicle owners tend to be completely lost when it comes to any type of electrical repair. If you have an electrical problem with your vehicle bring it in to German Performance for the best electrical service in Atascadero and Paso Robles. Our ASE certified technicians have experiencing fixing electrical problems for a variety of different makes, including Honda, Audi, BMW, Porsche, Toyota, Smart, Infiniti, Subaru, Mazda and Volkswagen. No need to waste your money with some dealership auto repair shop in Atascadero and Paso Robles when German Performance can help you save up to 50% over dealership prices.