Car Sensors Replacement
Don't settle for less! Call the BEST auto mechanics in Atascadero and Paso Robles!
There many t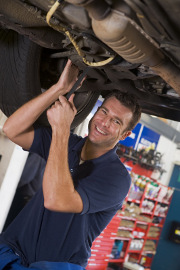 ypes of sensors in your car: knock sensor, TPS sensor (throttle position sensor), cam shaft sensor, fuel gauge sensor, O2 sensor (oxygen sensor), EGR (exhaust gas regulator), Fuel sending unit, IAC Sensor (idle air control)and more! You don't have to be an expert on all the high-tech changes happening to vehicles today – our mechanics at the Atascadero Paso Robles Auto Repair Shop are!
When things are going wrong with your car that you just can't diagnose or put your finger on, many times it tends to be a problem with a sensor. We have certified technicians that can diagnose and repair unusual car problems such as throttle position sensors, cam shaft sensor, fuel gauge sensor, O2 sensor (oxygen sensor), EGR sensor, knock sensor, among others.
Come by the best Auto Repair Shop in Atascadero and Paso Robles TODAY! Up to 50% less then car dealer pricing. Excellent ASE Certified Mechanics with fast turnaround!
If your car or truck just isn't running right, doesn't want to start, won't stay running, or has other problems, it could be a problem with one of the sensors. Modern vehicles are complicated and require more advanced techniques to diagnose many of these problems.
Your vehicle's sensors control and monitor a variety of different important components.Naturally, when one or more of these sensors fail it could lead to problems with your vehicle. If you are experiencing such problems bring your vehicle in to German Performance for the best car electrical sensor replacement service in Atascadero & Paso Robles. Our ASE certified mechanics are qualified to work on a variety of different makes, including Honda, Audi, BMW, Porsche, Toyota, Smart, Infiniti, Subaru, Mazda and Volkswagen. Don;t spend more money than is necessary, save up to 50% when you choose German Performance as your car sensor replacement service in Atascadero and Paso Robles.