Cooling & AC Service
Take your car to the best cooling system mechanics in Atascadero / Paso Robles!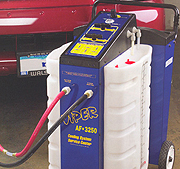 Your car's cooling system is vital to the efficiency and longevity of your engine. Have you ever seen a car pulled off along the side of the road in Atascadero, and steam is pouring out from under their hood? This is usually because something was not properly maintained, and the cooling system is not functioning as it should. Regular maintenance will prevent a slew of future problems and breakdowns. Here at German Performance of Atascadero (near Paso Robles), our ASE certified mechanics are experts in their field, and offer the best cooling system repair service in Atascadero, near Paso Robles!
Our ASE certified mechanics have years of experience performing all types of Atascadero cooling systems service and this means that our clients are guaranteed to receive the fastest and most efficient cooling system repair in Atascadero. Don't get caught without a functioning air conditioning systems in Paso Robles / Atascadero. Call today to get an industry low quote for all of your Atascadero / Paso Robles cooling systems service and repair needs; we wont let you down!
Air conditioning is one of the modern luxuries that we enjoy today. Can you imagine driving in the 100 degree weather in the south, without a working AC system in your vehicle? It's almost unbearable! Your comfort is our business, as our auto repair specialists are here to serve all of your air conditioning (AC) repair and service needs in Atascadero and Paso Robles. Come see us today!
We pride ourselves quality workmanship combined with giving you a great deal. To us a great deal is when you not only get great service but also at a great rate. If you live in Atascadero or Paso Robles and need your car's air conditioning or cooling system repaired then bring your car to us and we will give you the best deal on cooling system repair in Paso Robles & Atascadero.