Car Thermostat Replacement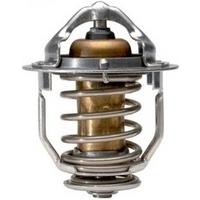 A car thermostat is a small device that is situated in between the engine and the radiator. The thermostat's job is to restrict vehicle coolant (anti-freeze and water) flow to the engine until the engine has warmed up. This allows the engine to warm up more quickly to reduce initial friction on the engine parts.
Sometimes a thermostat can become stuck or otherwise stop functioning properly. When this happens, the engine is at risk of overheating. It is a simple and quick matter to diagnose and repair thermostat problems at our Atascadero and Paso Robles Auto Repair Shop!
If you need help with your Car Thermostat in Atascadero or Paso Robles, German Performance is the place to go. We offer our clients a thorough inspection to see exactly what the problem is, and we also provide estimates so you will know what to expect. No other Atascadero or Paso Robles auto repair shop can offer the same level of service when it comes to car thermostat repair in Paso Robles or Atascadero. We employ ASE certified technicians that have experience working on a variety of different makes, including Kia, Lexus, Audi, Acura, BMW, Porsche, Honda and Nissan.
We are your one-stop Auto Repair Shop in Atascadero and Paso Robles. From complete engine repair to thermostat service and repair, if you live in Atascadero or Paso Robles, we do it all! Don't forget we have the best auto mechanics around and we will typically save you 50% over car dealer pricing. Great Prices – Great Service!!
Are you hearing funny noises? Is something broken? Do you have leaking fluid? Whatever car problem you have, we are the auto repair shop in Atascadero and Paso Robles to bring it to! We can diagnose and fix any car service issue that you may have. Our Auto Mechanics can get the job done! Contact the experts at German Performance by dialing (805) 466-3236.