Cooling System Flush Service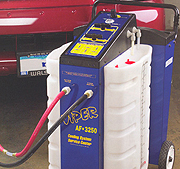 Keeping coolant in your car or truck is important to your vehicle's cooling system. Its primary function is to protect your car's engine during times of extreme temperature. If it's really hot or really cold then you want to pay special attention to your car's coolant.
Most manufacturers of coolant (anti-freeze) recommend that you change out or "flush" the anti-freeze once per year and actually flush the coolant every 24 months. In many regions of the country it's common to get the cooling system flushed right before temperatures fall below freezing or before temperatures go over 100 degrees. In either case, if you live in Atascadero or Paso Robles, it's important to clean and flush your radiator / cooling system regularly. We make it easy – no matter what kind of car or truck you drive, we can flush and fill your radiator / cooling system and get you back on the road fast!
Additionally, coolant (anti-freeze) helps to protect your radiator and cooling system from rust and decay. Many coolants contain a lubricant to help protect your water pump and other cooling devices from wear. It's a good idea to check your radiator level frequently or to have your full service auto shop check it at every oil change. If you check it yourself, don't forget to let the car cool down before taking off the lid to the radiator.
German Performance is the leading provider of cooling system flush services in Atascadero and Paso Robles. Whether you own a Kia, Lexus, Audi, Acura, BMW, Porsche, Honda or Nissan, if you live in Paso Robles or Atascadero, our ASE certified mechanics can perform an cooling system flush on your vehicle. Unlike other Atascadero and Paso Robles auto repair shops we don't make our clients wait hours on end for service that should take only minutes, and we certainly don't perform work that doesn't need to be done just to increase our profits. For the best cooling system flush service in Paso Robles & Atascadero come on down to German Performance where the professionals will treat you right!
Are you hearing funny noises? Is something broken? Do you have leaking fluid? Whatever car problem you have, we are the auto repair shop in Atascadero and Paso Robles to bring it to! We can diagnose and fix any car service issue that you may have. Our Auto Mechanics can get the job done!