Radiator Fan Replacement
Don't settle for less – Call the BEST auto repair shop in Atascadero and Paso Robles!
A Radiator Fan is exactly what it sounds like! It is a fan which keeps air flowing through your radiator.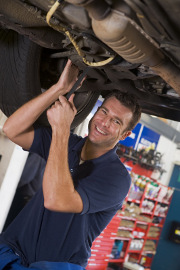 When your automobile is moving at a certain speed then it doesn't need a radiator fan because the flow of air through the grill is enough movement to transfer heat away from the radiator. However, when your car isn't moving fast enough or is standing still, the radiator fan goes to work by keeping air flowing freely through the radiator fins. The radiator fan works to transfer the heat away from the radiator so that it can continue to disperse heat properly. When the radiator is able to keep your coolant cool, then your engine's temperature is properly maintained.
When you need your radiator fan repaired or replaced in Atascadero or Paso Robles, German Performance should be the first auto repair shop you visit. Our ASE certified mechanics can provide our clients with radiator fan service for a variety of different makes, including Kia, Lexus, Audi, Acura, BMW, Porsche, Honda and Nissan. For our customers in Atascadero and Paso Robles, when it comes to radiator fan service and repair, we are the best shop around. Our customer service is unparalleled and our clients often report saving up to 50% over dealership pricing.