Fluid Leak Repair Service
Bring your car to German Performance in Atascadero and Paso Robles, because we're the experts you can trust!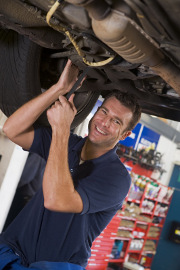 A Fluid Leak is one of the easiest problems to spot with your car or truck. However, Fluid Leaks can be an indication of much worse problems with your car. If you live in the Atascadero Paso Robles area and have an Fluid Leak then be sure to bring your car to the Atascadero Paso Robles Auto Repair Shop.
Certainly you've seen it with your vehicle or some one else's: the puddles underneath the engine or transmission. But the car or truck seems to run okay, so it must not be a big deal, right? Wrong!
Fluid leaks are always a sign of trouble. If an engine is leaking fluids, the problem might be small for now, but it will get bigger, and big problems in cars and trucks are always expensive. The smart thing to do is bring your car or truck to German Performance at the first sign of a fluid leak.
It could be a minor issue, like a cap or filter improperly replaced after a fluid change the last time your vehicle was serviced. Or it could be a sign of something serious developing, like the head gasket deteriorating – which could lead to the entire engine needing an overhaul if not replaced in time. A quick check by one of our experienced mechanics will let you know right away what you need to do – and it's better to know!
If your vehicle is experiencing some type of fluid leak bring it in to German Performance. Our ASE certified technicians will run a diagnostic and multi-point inspection in order to determine the nature of the leak and where it is coming from. Our guys at Atascadero and Paso Robles can fix fluid leaks for a variety of different makes, including Isuzu, Mazda, Scion, Mitsubishi, Acura, BMW, Porsche, Honda and Hyundai. Your vehicle uses fluids for a reason and if you allow a fluid leak to go unchecked it could result in significant damage to your vehicle. Call today for the best fluid leak repair service in Paso Robles and Atascadero. Unlike other Atascadero Paso Robles auto repair shops we don't perform unnecessary work in order to pad our bottom line, at German Performance, serving Atascadero and Paso Robles, you will receive professional fluid leak repair service at affordable prices.