Harmonic Balancer Replacement
Bring your car to German Performance in Atascadero, near Paso Robles, because we're the experts you can trust!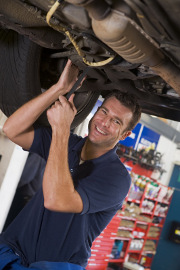 Your vehicle's harmonic balancer serves two purposes. One, it is connected to the crankshaft and helps to reduce vibration. Two, it services as a pulley device for the drive belts of your car. You might have never heard of it before now, but the good thing is you don't have to be an expert mechanic! Our Atascadero Paso Robles Auto Repair Shop is nearby and ready to help you with just about any automotive need you might have, big or small, so bring your car or truck in today and see how we can be of service.
No matter what make or model vehicle your drive, any year of vehicle, our mechanics can handle the service requirements and make the repairs.
Because the engine compartment is a tight space, it can be hard to get in to see where things are going wrong. When your harmonic balancer is beginning to fail, it will affect belts and pulleys, and can cause you to have to replace belts far more often than otherwise necessary. That's why it makes sense to bring your car or truck in to our Atascadero Paso Robles Auto Repair Shop at the first sign of trouble! We can perform a fast diagnostic to identify exactly what the problem is and let you know right away what it's going to take to get the repair made and get you and your car safely back on the road – in the least amount of time and without spending a fortune.
When you are looking for elite harmonic balancer repair service in Atascadero and Paso Robles, German Performance should be your first and only stop. We have ASE certified mechanics on duty that can provide harmonic balancer replacement service for a variety of different makes in Atascadero and Paso Robles, including Isuzu, Mazda, Scion, Mitsubishi, Acura, BMW, Porsche, Honda and Hyundai. Don't settle for inferior harmonic balancer service when you can save money and get superior service at German Performance in Atascadero and Paso Robles. Thanks to our specials and coupons our clients report saving up to 50% over what the dealerships charge for harmonic balancer repair in Paso Robles and Atascadero.
Are you hearing funny noises? Is something broken? Do you have leaking fluid? Whatever car problem you have, we are the auto repair shop in Atascadero and Paso Robles to bring it to! We can diagnose and fix any car service issue that you may have. Our Auto Mechanics can get the job done!