Oil Pump Replacement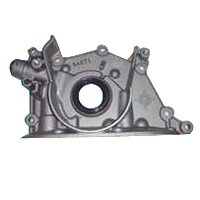 An Automobile's Oil Pump helps to circulate the oil under pressure in the engine. This helps to lubricate all the moving parts as well as aids in cooling the car's engine. The Oil Pump is a vital part of your automobile's engine.
Come see the Oil Pump specialists of Atascadero and Paso Robles Today! We have excellent auto mechanics and great deals on parts and repairs! Our Atascadero Paso Robles Auto Repair Shop mechanics have what it takes to keep your car or truck running like new for years to come. From necessary repairs to planned service, see for yourself why we're the trusted team to keep vehicles on the road!
Some symptoms of oil pump failure include:
Engine or oil light indicator on your dashboard coming on
Low oil pressure light is on
Increased engine operating temperature
Noise, especially a loud whining or whirring sound
If you notice that your vehicle is exhibiting one or more of these symptoms don't waste any time in bringing it in to German Performance for the best oil pump repair and replacement service in Atascadero and Paso Robles. If you don't address the problem you run the risk of having your oil pump fail completely and this could result in your engine locking up, causing a repair that would cost a few hundred dollars to develop into a problem that will cost thousands of dollars to fix. Our ASE certified mechanics can repair and replace oil pumps for a variety of different makes, including Isuzu, Mazda, Scion, Mitsubishi, Acura, BMW, Porsche, Honda and Hyundai. For oil pump replacement in Atascadero or Paso Robles bring you car to German Performance, our service simply cannot be beat.
Are you hearing funny noises? Is something broken? Do you have leaking fluid? Whatever car problem you have, we are the auto repair shop in Atascadero and Paso Robles to bring it to! We can diagnose and fix any car service issue that you may have. Our Auto Mechanics can get the job done!