Repair Oil Leaks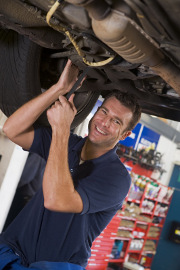 An Oil Leak is one of the easiest problems to spot with your car or truck. However, oil leaks can be an indication of much worse problems with your car. At Atascadero Paso Robles Auto Repair Shop, we don't just look at the surface fproblem, we run a complete diagnostic to find the real cause and fix it so that your vehicle keeps running the way it should.
If you live in the Atascadero Paso Robles area and have an oil leak then be sure to bring your car by. We have ASE certified mechanics on duty that can quickly diagnose your oil leak source.  Remember our Auto Shop is uniquely owned and operated so be sure to come to us.
No matter what make or model of car or truck you drive, our mechanics have the experience to provide the service and make the repairs. Almost any vehicle from any year is no problem – we get you back on the road fast and for lot less than you would expect to pay at a dealership! Trust the experts at Atascadero Paso Robles Auto Repair Shop to keep your car or truck running like new.
Need help fixing or diagnosing a car engine problem? We provide the best Oil Leak repair service of any Atascadero Paso Robles auto repair shop you can find!
The oil leaks service that we offer at German Performance in Atascadero and Paso Robles is without a doubt the best in the area. Our ASE certified technicians are qualified to repair oil leaks on a variety of different vehicles, including Isuzu, Mazda, Scion, Mitsubishi, Acura, BMW, Porsche, Honda and Hyundai. Whether you need a gasket replaced or a more complex repair German Performance can address almost any oil leak problem in Atascadero. Our experienced experts will quickly diagnose the problem and provide you with the oil leak service that you need in order to get you back on the road as soon as possible