Brake Fluid Flush Service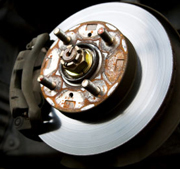 While most drivers recognize the importance of changing their engine oil few realize that it is also necessary to change brake fluid from time to time as well. A brake fluid flush can help your brakes last long and will help limit the wear and tear to the braking system caused by dirt and other particles in the fluid. When it comes time for your next brake fluid flush in Atascadero or Paso Robles, come on in to German Performance. Our ASE certified technicians are the leading providers of brake fluid flush service in Atascadero and Paso Robles, and can service a variety of different vehicles, including Audi, Volkswagen, BMW, Porsche, Mercedes-Benz, Scion, Smart, Honda, Kia and Lexus.
It is a common car manufacturer suggestion to change out your car's brake fluid every 20,000 to 25,000 miles. Your vehicle make and model could call for either more or less mileage in between brake flush recommendations.
We are here to help, and you won't find a better deal on brake flush service in the Atascadero and Paso Robles area! If you think you might be in need of a brake fluid flush, just come by and have one of our certified mechanics check it out.
One symptom of broken down or old brake fluid is a sluggish response in braking when you apply pressure to the brake pedal. There's few things as scary when driving as stepping on the brakes and not having your vehicle slow down when you expect it to. It only has to happen once and you'll know it's time to bring your car or truck to us for a thorough check-up and replacement of fluids as needed.
We are your one-stop Auto Repair Shop Atascadero and Paso Robles. From Complete Engine Repair to brake flush service, for residents of Atascadero and Paso Robles we do it all! Don't forget we have the Best Auto Mechanics around and we will typically save you 50% over car dealer pricing. Great Prices – Great Service!! Call today to ask about our Paso Robles brake fluid flush specials so that you can save money the next time you need a brake fluid flush in Atascadero and Paso Robles.
Are you hearing funny noises? Is something broken? Do you have leaking fluid? Whatever car problem you have, we are the auto repair shop in Atascadero and Paso Robles to bring it to! We can diagnose and fix any car service issue that you may have. Our ASE certified Auto Mechanics can get the job done!