Atascadero & Paso Robles Break Service and Repair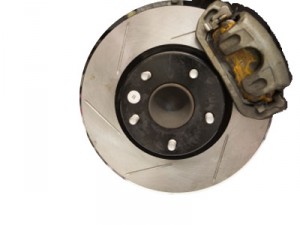 Brakes are important aspect to any car or truck. Brakes need to be serviced regularly in order to maintain proper safety on your car or truck. For the best deals anywhere in Atascadero and Paso Robles, trust our Atascadero Auto Repair Shop for your next brake service or replacement!
Brake pads are the part of the brake system that are designed to wear out after set time. Sometimes the rotors need to be turned if there's a vibration while the car is braking. One of our trained mechanics can tell if this needs to be done by visually inspecting the rotors. Usually no rotor work is needed if the brake pads are changed when they reach their replacement point. So bring in your car or truck and get your brakes serviced today, you'll be glad you did.
Some other problems with the brake system could be with the master cylinder or the brake lines. The master cylinder is a braking component that converts non-hydraulic pressure into hydraulic pressure so that you can move other things in the hydraulic system such as the slave cylinder. (In other words, is there an issue when your foot presses the brake pedal?)
Our deals on brakes can't be beat, from brake pads, drums, rotors, full brake system service.
We are your one-stop Auto Repair Shop in Atascadero and Paso Robles. From Complete Engine Repair to brake repair service, we do it all for our customers in Atascadero and Paso Robles! Don't forget we have the Best Auto Mechanics around and we will typically save you 50% over car dealer pricing. Great Prices – Great Service!!
Brake repair in Atascadero and Paso Robles can be a time consuming and expensive process and if not done right the consequences can be disastrous. Because of this it is important that you allow only the best professionals to work on your vehicle. Here at German Performance, serving Atascadero, Paso Robles and beyond, we employ ASE certified technicians that have years of experience conducting all forms of brake service & repair on a variety of different makes and models, including Audi, Volkswagen, BMW, Porsche, Mercedes-Benz, Scion, Smart, Honda, Kia and Lexus. When it comes time to have your brakes repaired or serviced in Atascadero and Paso Robles, choose German Performance. We can have back on the road in no time and our clients report saving up to 50% in comparison to dealership prices for brake repair in Paso Robles & Atascadero.