Atascadero Replace Brake Rotors / Drums / Pads / Shoes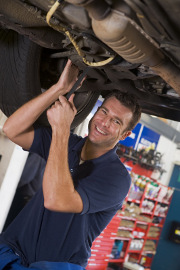 Brakes are important aspect to any car or truck. Brakes need to be serviced regularly in order to maintain proper safety on your car or truck. For the best deals anywhere in Atascadero, trust our Auto Repair Shop for your next brake service or replacement!
Brake pads are the part of the brake system that are designed to wear out after set time. Sometimes the rotors need to be turned if there's a vibration while the car is braking. One of our trained mechanics can tell if this needs to be done by visually inspecting the rotors. Usually no rotor work is needed if the brake pads are changed when they reach their replacement point. So bring in your car or truck and get your brakes serviced today, you'll be glad you did.
Waiting too long to have your brake pads or brake drums replaced in Atascadero could prove to be quite costly. As your brakes wear down they can lead to extra wear and tear on other parts of your vehicle and could cost you even more money when you finally get around to bringing it in for brake drums replacement in Atascadero & Paso Robles. When you need your brake pads replaced in Atascadero there is only one shop that you should turn to, German Performance. Our ASE certified technicians are familiar with all types of brake repair, from brake drums and pads replacement to brake rotor replacement in Atascadero our guys can do it all!
Some other problems with the brake system could be with the master cylinder or the brake lines. The master cylinder is a braking component that converts non-hydraulic pressure into hydraulic pressure so that you can move other things in the hydraulic system such as the slave cylinder. (In other words, is there an issue when your foot presses the brake pedal?)
Our deals on brakes can't be beat, from brake pads, drums, rotors, full brake system service.
Our ASE certified mechanics have experience with Atascadero brake drums replacement on a variety of different makes and models, including Audi, Volkswagen, BMW, Porsche, Mercedes-Benz, Scion, Smart, Honda, Kia and Lexus.
Are you hearing funny noises? Is something broken? Do you have leaking fluid? Whatever car problem you have, we are the auto repair shop in Atascadero to bring it to! We can diagnose and fix any car service issue that you may have. Our ASE Certified Auto Mechanics can get the job done!