Brake Line Repair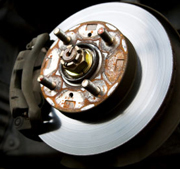 The Brake Lines to your Car's Brakes are critical to the performance of your braking system. Our mechanics at German Performance are experts at diagnosing and fixing any problems with brake lines in all makes and models of vehicles. If you are experiencing brake line problems, or a problem you think may stem from your brake line, bring it in for the best brake line repair service in Atascadero and Paso Robles.
The brake lines are literally the pipes and hoses in your vehicle that contain the braking fluid. Your Brake Lines, and thus braking fluid, are critical braking components and safety components. If you are having any problems with your brake line, bring your car or truck into our Brake Repair shop for Atascadero and Paso Robles today.
Don't take chances on the road. The safety of yourself, your passengers, and everyone else can depend on your brake lines working like they should. It can be an easy matter to diagnose any problem, so there's no reason to put it off – bring your car or truck to us right away!
We are your one-stop Auto Repair Shop. From Complete Engine Repair to brake line service, we do it all for our customers in Atascadero and Paso Robles! Don't forget we have the Best ASE certified Auto Mechanics around and we will typically save you 50% over car dealer pricing. Great Prices – Great Service!!
Our ASE certified mechanics are able to repair brake lines in Atascadero & Paso Robles for a variety of different vehicles, including Audi, Volkswagen, BMW, Porsche, Mercedes-Benz, Scion, Smart, Honda, Kia and Lexus. Bring your vehicle in today for superior brake line repair service in Atascadero and Paso Robles at a fraction of the cost of taking it to a dealership. German Performance is only a phone call away!