Hydraulic Brake Booster Service
Your Complete Atascadero & Paso Robles Auto Repair Shop!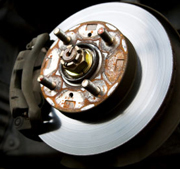 It is incredibly hard to overlook the fact that your vehicle's hydraulic booster is no longer working properly. If you start to suspect that your hydraulic booster is malfunctioning or that there are other problems with your brakes & wheel bring your vehicle in to German Performance for the best hydraulic booster repair service in Paso Robles & Atascadero. Our ASE certified mechanics are trained to conduct hydraulic booster replacement or repair on a variety of different vehicles for our customers in Atascadero and Paso Robles, including Audi, Volkswagen, BMW, Porsche, Mercedes-Benz, Scion, Smart, Honda, Kia and Lexus.
Your Car's Brake Booster Unit is an enhanced master cylinder that is used to reduce the amount of pedal pressure needed for braking. The Brake Booster works off of hydraulics so that you don't have to apply as much pressure to get the car to stop.
If the Hydraulic Brake Booster Unit is out then it will be very hard to stop the car due to the amount of pressure you will have to apply to the brake pedal. If you think you may be having problems with your brake booster then be sure to come by as soon as possible. We are the Atascadero and Paso Robles brake repair experts.
The hydraulic booster unit is an important part of your vehicle's brake system. Don't take chances with your safety on the road – or the safety of others. At the first sign of trouble with your brakes, bring your car or truck to our Auto Repair Shop in Atascadero and Paso Robles and we will let you know right away what the problem is.
Let German Performance be your #1 choice for hydraulic booster service and repair in Atascadero and Paso Robles. Our ASE certified mechanics are standing by to help you with all of your automotive problems. Give us a call today to find out how our coupons and specials can help you save up to 50% over dealer pricing for hydraulic repair & replacement in Atascadero and Paso Robles.
Are you hearing funny noises? Is something broken? Do you have leaking fluid? Whatever car problem you have, we are the auto repair shop in Atascadero to bring it to! We can diagnose and fix any car service issue that you may have. Our ASE certified Auto Mechanics can get the job done! Just head south on the 101 from Paso Robles!