Atascadero Fuel & Exhaust Services
Your engine burns a mixture of air and gas, and the result of that combustion is what comes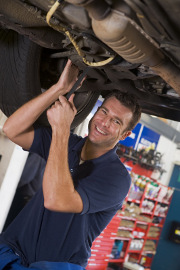 out your exhaust pipe. In recent years, the government has become more and more concerned about the exhaust gases from vehicles, and have required the use of various emission components, to help clean up the air which comes out of your car's exhaust. One of those parts is the catalytic converter. When un-burnt fuel, known as hydrocarbons, passes out of the exhaust manifold, it goes through a catalyst, which causes many of the remaining hydrocarbons to be burnt off before leaving the tailpipe. The result is cleaner, more environmentally friendly air to breath for all of us. When your car's catalytic converter becomes plugged, it will restrict airflow, which in turn will make your engine run "stuffy" and hesitation will usually occur. When this happens, bring your car or truck to German Performance where we offer the best exhaust repair service for Atascadero and Paso Robles at the best rates in town!
Here at German Performance we realize how important the fuel system is to the operation of any vehicle and that is why our ASE certified mechanics are trained to provide the best fuel system service & repair in Atascadero and Paso Robles. Additionally, our Atascadero Paso Robles exhaust & repair service is unbeatable in terms of price and quality. No matter what type of fuel system service or repair you need we have the resources to get it done!
Bring your car or truck to German Performance in Atascadero for all your fuel injection system repair needs.
Need help diagnosing or repairing something on your car or truck? We provide the best car repair service in Atascadero and Paso Robles. Broken parts, funny sounds, leaking fluid, no problem! Call or stop in at our auto shop in Atascadero & Paso Robles today!
Our ASE certified mechanics can provide fuel system repair for a variety of different makes and models, including BMW, Audi, Kia, Volkswagen, Nissan, Toyota, Porsche, Mercedes Benz, Mazda, Honda and Lexus, and we're just a short drive from Paso Robles.