Fuel Injector Replacement Service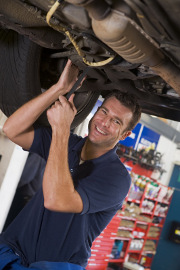 Bring your car to German Performance in Atascadero, because we're the experts you can trust!
A fuel injector is basically a high performance electromagnetic valve that regulates the fuel that goes into your engine. When your fuel injectors get dirty, they will fail to operate as they should, and can cause poor performance and fuel economy also suffers.
Bring your fuel injector problem to our certified mechanics here at German Performance of Atascadero, where we are trained and ready to tackle any issue that you might have with your fuel injectors. We can do a complete cleaning of your fuel system, or if needed, replace your fuel injectors with new ones. All of the replacement parts we install meet or exceed the factory quality ones that your car or truck came with.
Here at German Performance we provide Atascadero fuel injector service for a variety of different vehicles, including but not limited to BMW, Prius, Volkswagen, Porsche, Honda, Kia, Scion, Subaru, Smart, Nissan and Mitsubishi. For the best fuel injector replacement service in Atascadero bring your vehicle in to German Performance. With our auto repair specials and coupons you could potentially save up to 50% over dealership pricing for fuel injector repair service in Paso Robles and Atascadero.