Fuel Filter Replacement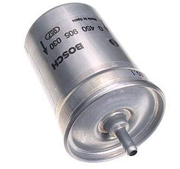 Bring your car to German Performance in Atascadero and Paso Robles, because we're the experts you can trust!
Fuel filters are vital to your vehicle's operations. They are usually a canister that contains some sort of paper filter. Fuel filters filter out dirt and particles from fuel before those particles have a chance to enter your car engine and cause damage. Gas is typically pumped from a pump located in the fuel tank to the engine. But, before that gas gets to the engine it is filtered by the fuel pump.
Fuel filters break down over time and can actually cause your car or truck to stop running, and even cause engine damage. Or, the fuel filter will simply get clogged with debris and eventually prevent the flow of gas to the engine.
In either case, you should change out your fuel filter by your manufacturer's recommendation to ensure proper performance. (Usually around 40,000 miles, but could be more or less depending on the type of car or truck.) No matter the make or model of your car or truck, our mechanics at Atascadero Paso Robles Auto Repair Shop can replace the fuel filter fast and get you back on the road quickly!
When it comes time to replace your fuel filter in Atascadero and Paso Robles, bring your vehicle in to German Performance. We offer the best fuel filter replacement service, while also offering prices that are often up to 50% lower than what many dealerships are charging. Don't settle for sub par fuel filter repair and replacement, our ASE certified mechanics can replace them on a variety of different vehicles, including BMW, Prius, Volkswagen, Porsche, Honda, Kia, Scion, Subaru, Smart, Nissan and Mitsubishi.
Do you hear funny noises? Is something broken? Do you have leaking fluid? Whatever car problem you have, we are the auto repair shop in Atascadero and Paso Robles to bring it to! We can diagnose and fix any car service issue that you may have. Our Auto Mechanics can get the job done!