Engine Diagnostic & Exhaust Repair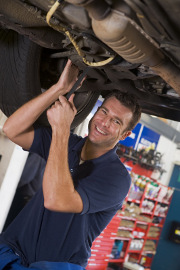 Atascadero and Paso Robles DTC Diagnostic Trouble Codes Service – Cars and Trucks today have become very sophisticated machines, complete with on-board computers that keep track of many different functions and states of your vehicle. Fortunately, the staff at Atascadero Paso Robles Auto Repair are experts with all makes and models of cars and trucks, and are qualified to work on almost every kind of vehicle no matter what year.
Is your vehicle's Check Engine Light on? If your check engine light is on then your car is telling you that something is wrong. There is no way to tell whether it is serious or not without performing a diagnostic test on the system. With that being said, you should take these warning lights seriously just to make sure that you are not harming your car or truck by driving it further.
We have some of the best Mechanic Service Rates in the industry and our Customer Service is excellent. We save most customers about 50% over Dealer Pricing and it's all right here at Atascadero Paso Robles Auto Repair Shop. If you live anywhere in the area, it's worth the drive for the great deals and the great service.
Here at German Performance in Atascadero and Paso Robles, our engine diagnostic service is second to none. We are recognized as the best engine diagnostic service and exhaust repair shop in Atascadero and Paso Robles. Our ASE certified mechanics are trained to perform diagnostic service for a variety of different makes, including BMW, Prius, Volkswagen, Porsche, Honda, Kia, Scion, Subaru, Smart, Nissan and Mitsubishi. The clients of German Performance often report saving up to 500% over dealership pricing when it comes to engine diagnostic service in Atascadero and Paso Robles.
Are you hearing funny noises? Is something broken? Do you have leaking fluid? Whatever car problem you have, we are the auto repair shop in Atascadero and Paso Robles to bring it to! We can diagnose and fix any car service issue that you may have. Our Auto Mechanics can get the job done!