Exhaust Leaks Repair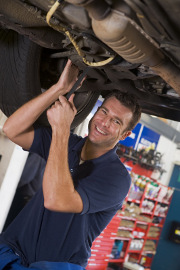 Exhaust Leaks can cause a variety of problems and be due to a variety of things. At German Performance, we have seen and fixed them all, so bring your car or truck to us and we'll get you back on the road fast without paying a lot!
If nothing else, exhaust leaks can keep your car from passing inspection due to strict State Emission standards. In addition, exhaust leaks can cause embarrassing noises to come from your exhaust system or just be uncomfortable to listen to. So, whether you are trying to get your car to pass state inspection standards or you are simply tired of listening to the noise, bring your car in to our Atascadero Paso Robles Auto Repair Shop today!
Wear and tear, uneven roads, age, cheap replacement mufflers, and other things can cause exhaust leaks and excessive noise. If you have an inspection coming up or have noticed that your vehicle is making more noise than it used to, bring it by Atascadero Paso Robles Auto Repair Shop, and we'll take a look. You'll find that our mechanics are knowledgeable, work fast, and give great service – and when you have work done in our shop, it costs a lot less than you'd pay other places!
Exhaust leaks can pose a serious problem for all vehicles so bring your car or truck in to German Performance for the best exhaust leak repair service in Atascadero & Paso Robles. Our ASE certified mechanics are qualified to fix exhaust leaks on a variety of different vehicles, including BMW, Prius, Volkswagen, Porsche, Honda, Kia, Scion, Subaru, Smart, Nissan and Mitsubishi. Call today if you need superior exhaust leak repair in Atascadero and Paso Robles. Other Atascadero / Paso Robles auto repair shops simply can't compete with our level of customer service.
Are you hearing funny noises? Is something broken? Do you have leaking fluid? Whatever car problem you have, we are the auto repair shop in Atascadero and Paso Robles to bring it to! We can diagnose and fix any car service issue that you may have. Our Auto Mechanics can get the job done!