Fuel Injection Repair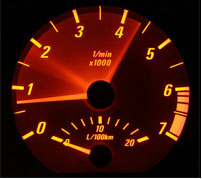 Bring your car to German Performance in Atascadero and Paso Robles, because we're the experts you can trust!
Many cars have a system of mixing fuel with air which is called fuel injection. Our mechanics at Atascadero Paso Robles Auto Repair Shop are experts at servicing and repairing fuel injected vehicles of almost all kinds. No matter what make or model your car or truck is, you can bring it to us and we can keep it running smooth and like new!
Before fuel injection became more popular many cars used carburetors. Fuel injection uses high pressure to force the fuel through a small opening as opposed to a carburetor which uses much less pressure.
Over a relatively short period of time your vehicle can develop a buildup of deposits in the high pressure fuel intake system that can cause a variety of problems. You need a fuel system CLEAN! The good news is, Atascadero Paso Robles Auto Repair Shop can clean your fuel injected car or truck and get it running like new again.
Does your car:
Have trouble starting?
Act sluggish when you give it gas?
Sound different, stall or skip?
If you have been experiencing any of these problems bring your vehicle in to German Performance. Our ASE certified mechanics pride themselves on providing our customers of Atascadero and Paso Robles with fuel injection service for a variety of different vehicles, including but not limited to BMW, Prius, Volkswagen, Porsche, Honda, Kia, Scion, Subaru, Smart, Nissan and Mitsubishi. Our clients often report saving up to 50% over dealership pricing when they bring their vehicle in for fuel injection service in Paso Robles and Atascadero.
Are you hearing funny noises? Is something broken? Do you have leaking fluid? Whatever car problem you have, we are the auto repair shop in Atascadero and Paso Robles to bring it to! We can diagnose and fix any car service issue that you may have. Our Auto Mechanics can get the job done!